The World Has Changed:House of M panel: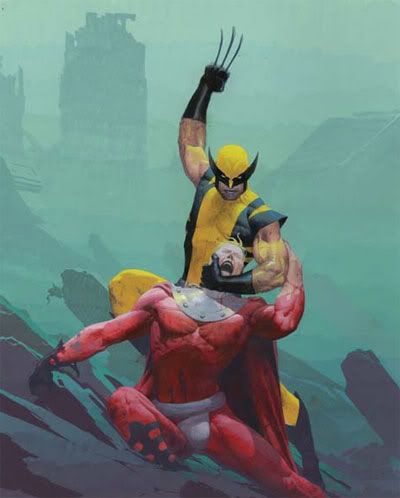 The New X-Men' status quo is changing after the House of M. Craig Kyle and Chris Yost from X-23 are taking over after Nunzio DeFillippis and Christina Weir. Their first arc deals with the repercussions of HoM and how that affected the younger mutants. Editor Mike Marts said that HoM "demands a line-up change." "X-23, Surge, Hellion, Rockslide, Mercury, Elixir, and Dust " are on the new lineup...

Marts says "You have to read all of House of M, then House of M: The Day After and New X-Men # 20, both in November," said Marts. "Then you'll understand why all these characters were chosen to be a part of the New X-Men." He also said none of the present characters are going to any of the other Marvel Universe superteams, nor or any getting solo series...

Marvel Editor Andy Schmidt said Excalibur will be restarted featuring some of the classic line up from writer Chris Claremont and artist Michael Ryan. The line up includes: Captain Britain, Nocturne, Pete Wisdom, and Dazzler.




X-Factor is also returning this November spiraling from the success of the Madrox limited series and out of events from House of M. The series will be centered in the District X region with a darker tone than the original book...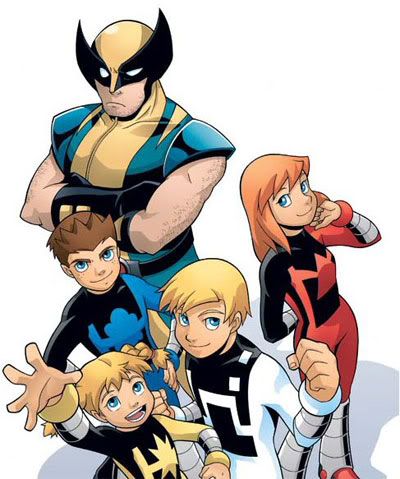 There will be an X-Men/Power Pack limited series starting in October from the Power Pack team of Marc Sumerak and Gurihiru...

The House of M variant covers for # 6 are by Greg Land, #7's are from Sal Larroca, and #8's from Chris Bachalo...

Starting with Uncanny X-Men 464 new creative team is Chris Claremont and Chris Bachalo...

Whedon and Cassady will stay on until Astonishing X-Men #25

Exiles # 69 - #71 is about Beak returning to the mainstream Marvel Universe, but when the Exiles return, its the House of M. Also in Exiles issue # 71, a member of the team will die...

The Pulse # 10 by Brian Michael Bendis and Michael Lark is going to be the most closely tied in to the House of M. If people want the full story on House of M, this is the issue to buy...

There are some plans for the X-Statix, but nothing that can be announced yet...

There are no plans for the Man-Thing after its appearance in House of M...


Joe Quesada, Orson Scott Card, Brian K. Vaughan, and Brandon Peterson on the Ultimate Marvel panel: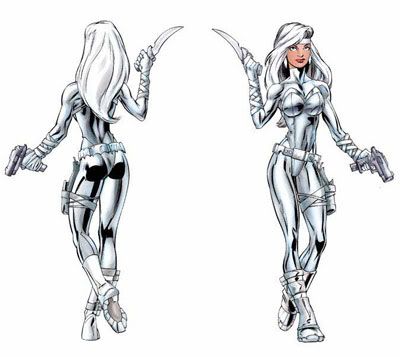 Concept art was shown featuring Silver Sable, Havok ,and several other characters. Quesada mentioned that Ultimate Silver Sable was in the upcoming Ultimate Spider-Man video game and that the game was penned by Brian Michael Bendis. There was no mention of if she would show up within the pages of any Ultimate Universe comic book.

Teaser art was featured from the final part in the Warren Ellis Ultimate trilogy, Ultimate Extinction. The piece shown was a black and white Galactus looking helmet. Brandon Peterson is tapped to pencil the series... he teased "The Silver Surfer is there, but not in the way you might expect.

"It's not just going to be a Fantastic Four thing," Peterson continued. "It's an entire Ultimate Universe thing with all the major players coming together to team up. Galactus will not be a big guy in a purple suit. We have a really realistic take on Galactus. The scope of the series is huge - as in actual astronomical units being described in the script I had to draw."


When asked "Why weren't Shanna and Black Panther rebooted in Ultimate line?", Joe Q said "The Ultimate Line is intended to be more in line with the movie line. When we tried to do an Ultimate Daredevil to coincide with the movie, we ended up with basically the same character. That's why with BP and Shanna, when we found ourselves going down the same road, we decided they should remain in the regular universe."

Joe Quesada plugged again the fact that major announcements containing the Ultimate Universe would be forthcoming in the next three to four weeks and everyone should "stay tuned."


Other Marvel Universe panel info:
Joe Quesada has signed a new multi-year deal with Marvel Comics that has him not only wearing the Editor-in Chief hat, but also Chief Creative Officer, Publishing.

"Over the next couple of years, my ultimate goals will remain further growing Marvel Comics' leadership position and expanding our mainstream presence. I want comics to have the same consumer prominence as movies, TV and novels and in doing so continue to grow Marvel Comics as among America's premiere storytellers," said Quesada.

New creators on Iron Man, Daredevil and Thor, as well as the New Avengers artist and Incredible Hulk writer, will be announced soon. The new Thor book won't launch until next year.

Punisher #25-30 pit Frank Castle against the NYPD.




Marvel Comics revealed a new six-issue Moon Knight series will begin in February. Moon Knight: The Bottom is written by Charlie Huston, with art by David Finch. Huston, 37, is an author of such books as Caught Stealing, Six Bad Things and the upcoming Already Dead.

"This is Charlie's inaugural comic work," Marvel editor-in-chief Joe Quesada said. "Charlie's are the best scripts I've ever seen coming from someone who hasn't written comics before."

The book will be set firmly in continuity and will feature Marc Spector as Moon Knight. "But it moves the story forward," Quesada said.

Another Mary Jane series written by Sean McKeever will start in November or December.

Fantastic Four: First Family, a six-issue series, will launch in January, written by Joe Casey, with art by Chris Weston

"We go back and explain a lot of the early stuff," Casey said. "There a lot of firsts, like the first time Reed Richards kissed the government's ass, which he seems to do a lot now."

J. Michael Strazcynski's Book of Lost Souls will be published in October, with art by Colleen Doran.

New Thunderbolts #13-14 is a meeting with the New Avengers

New Avengers- Finch's last arc will feature Ronin and then Frank Cho's arc on New Avengers will feature Spider-Woman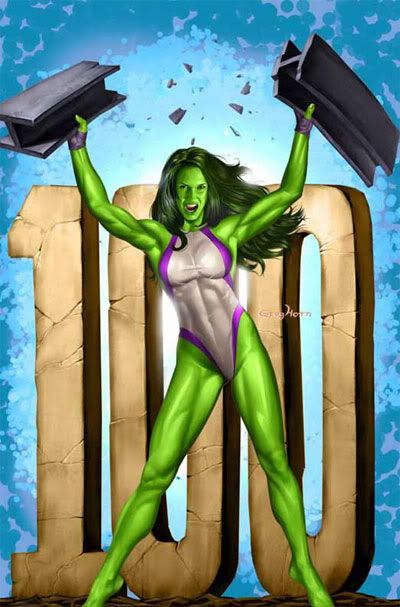 The original numbering on the She-Hulk will be relaunched in October, but will soon revert to cumulative numbering with a #100 issue (combining the original series, Sensational & the most recent series)

Cloak and Dagger would be seen in the pages of a Runaways arc beginning with issue # 9. The New Avengers will also be featured in that arc....

Luke Cage will appear in six issues of Black Panther.

Quesada said to look for some Iron Man-related mini-series

J. Michael Straczynski said the move of Supreme Power from MAX to Marvel Knights won't impact the title's contents creatively.

"The story isn't going to change, the characters aren't going to change and the tone isn't going to change," he said. "The only thing that will change will be the imprint."

Straczynski said there won't be any crossovers between the Marvel and Supreme Power universe, but there might be Marvel Universe-like characters in Supreme Power.

Secret War will conclude in November, and Dan Buckley said a hardcover is targeted for February or March

The panel ended with Quesada teasing a project. He said last year at Comic-Con he was asked if there was any one writer he could have come work on a Marvel Universe project, who would it be, and then flashed "The King" image without further explanation.