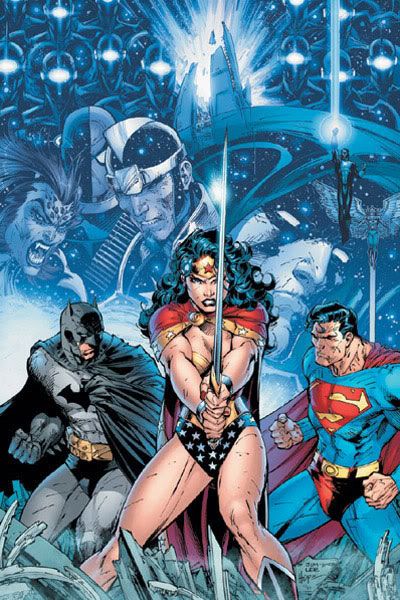 Infinite Crisis #1, touted as the biggest book of 2005 is now on sale at your local comic shop. No spoilers here, just check it out, its definitely a great read. If you can, try to read Villain's United #6 & Rann/Thanagar War # 6 as they tie directly into IC#1. Also, JSA Classified #4, on sale October 19th, will lead into IC #2. Personally I expect this to sell out pretty quickly, as this book shipped with a 50/50 ratio with Jim Lee on one cover & George Perez on the other. Here's DC's summary of the issue:

INFINITE CRISIS #1 (OF 7)
Written by Geoff Johns; Art by Phil Jimenez & Andy Lanning; Covers by Jim Lee & Sandra Hope and George Pérez

It's finally here: the comics event so massive that it built over the first half of 2005, through COUNTDOWN, DAY OF VENGEANCE, RANN/THANAGAR WAR, VILLAINS UNITED and THE OMAC PROJECT! Prepare for the dawn of the DCU's darkest day in INFINITE CRISIS, a 7-issue miniseries written by Geoff Johns (GREEN LANTERN, JSA) with art by Phil Jimenez (OTHERWORLD, Uncanny X-Men) & Andy Lanning (OTHERWORLD) and covers by George Pérez (CRISIS ON INFINITE EARTHS) and Jim Lee (BATMAN, SUPERMAN) & Sandra hope! Surrounded by their most fearsome enemies, the world's greatest heroes are divided within and without.

DC's icons — Superman, Batman, Wonder Woman — are joined by Nightwing, Supergirl, Donna Troy, Superboy, Robin, Wonder Girl, Green Lantern, the Flash and more as they face their most dire hour. What happens next will destroy friendships and lives, dictating the direction of the universe for the next generation!

Years in the making, the greatest event to hit the DCU in over two decades is about to explode — don't miss out!

DC Universe | 40pg. | Color | $3.99 US

On Sale Now!