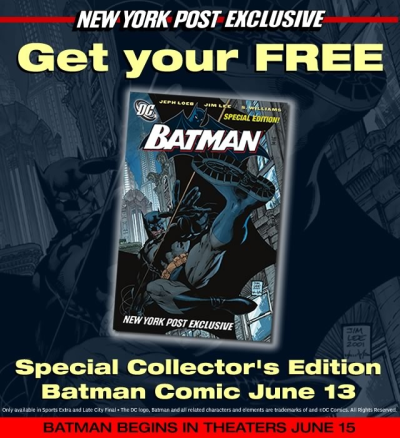 In conjunction with the Batman Begins movie, the New York Post will be giving away a reprint of Batman #608 on Monday, June 13. The issue, by Jeph Loeb and Jim Lee, started the 12-part "Hush" storyline.

Check out the press release:


The New York Post will be giving away a free special edition Batman comic book in its papers on Monday, June 13th. The Post is providing its readers with the collectible in anticipation of the hotly awaited theatrical release of "Batman Begins" from Warner Pictures on June 15th.

The comic, "BATMAN: HUSH Chapter One: The Ransom", is an out of print reprint originally published in 2002. This collectible edition will have a specially designed cover made exclusively for the New York Post.

BATMAN # 608 kicked off the bestselling and critically acclaimed "Batman Hush" storyline by writer Jeph Loeb, penciller Jim Lee and inker Scott Williams. In the story, Batman matches wits with his some of his famous villains.

The comic book will be inserted in the Sports Extra and Late City Final Editions of The Post in the tri-state area.

The New York Post, founded by Alexander Hamilton on November 16, 1801, is the oldest continuously published daily newspaper in the United States and the fastest growing paper in the country.